7 Threads
Kula Collective stands out for its unique business practices, holistic and authentic approach and its powerful worldwide tribe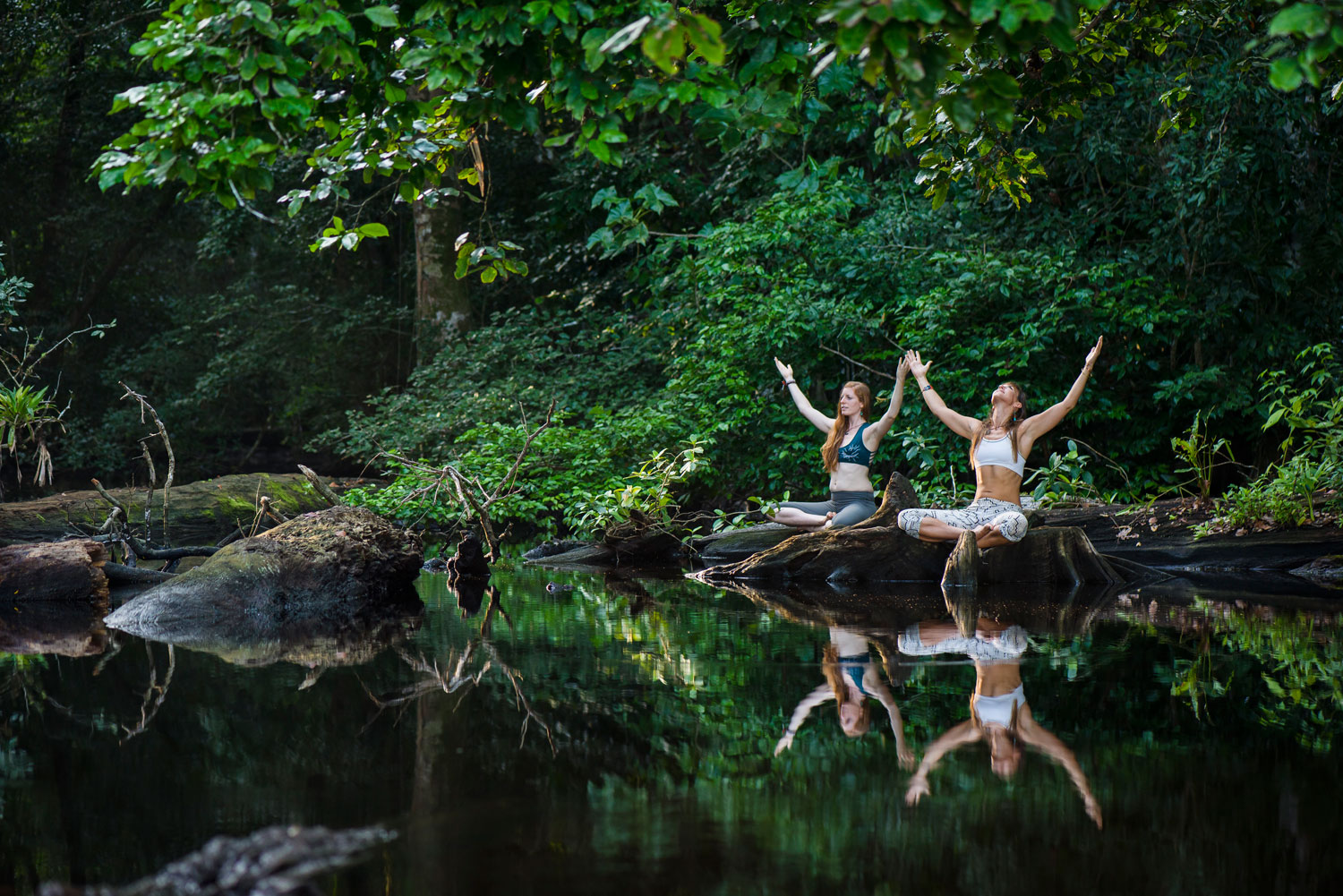 Holistic Yoga
KULA COLLECTIVE OFFERS A THERAPEUTIC APPROACH TO YOGA FILLED WITH PASSION, CEREMONY, CREATIVITY AND FLOW. OUR STYLE OF YOGA ASANA IS A FUSION OF MANY TRADITIONS, INCLUDING VINYASA-BASED PRACTICES, AYURVEDIC WISDOM, MEDITATION AND SHAMANISM. CLASSES HAVE AN EMPHASIS ON CREATING A SACRED, INTENTIONAL SPACE FOR HEALING AND TRANSFORMATION.
With many unique specialties from the seven Kula founders and our family of quality facilitators, our classes are taught from an authentic place, embracing the wholeness of the body, mind and spirit to inspire subtle shifts in awareness. Our classes include theme weaving, mantra and medicine music, pranayama, creative and intelligent sequencing, alignment, thai-massage based hands on assists and meditation.
We share yoga in a way that encourages students to find their own essence, incorporating and respecting local and worldwide traditions while adhering to safe practices, anatomical alignment and energetic awareness. Weaving in a connection to nature, mantra, mudras, bandhas, chakras, intentions, meditation and pranayama, our yoga is a conscious journey of exploration and self-inquiry.
Our curriculum for both 200 and 300 HR Yoga Teacher Training courses are broken down into the four daily arts that we feel make up a holistic yoga experience; Art of Practice, Art of Living, Art of Healing and Art of Teaching. Art is authentic expression, a spirit channelled through the body, and a limitless source of creative potential. With a grounded foundation in anatomical, scientific and structural awareness, each art is explored with curiosity, self inquiry, reflection and mindful feedback, together allowing us to cultivate a deep practice of personal evolution.
Kula Collective trainings and retreats are located in some of the world's most beautiful and sacred locations, where we gather in reverence in order to connect to the deeper power of the earth on which we grow. Our offerings are built around an awareness of the rhythms of nature, using powerful tools such as fire ceremonies, medicinal cacao, sound healing, smudging, offerings, gratitude, shamanic journeying and the ceremony of yoga to dive beyond the boundaries of every day perception and invite deep personal inquiry and self-transformation.
In our offerings, you will explore tools such as personal silence in the mornings, daily intentions and careful opening and closing of sacred space in each session to invite inner exploration and make each day into a ceremony of life. In ceremony, we take time to focus on a particular here and now to ensure that we are giving reverence and bringing light to an impactful moment. We set aside our routines in order to fully cherish the beauty and power we live in, coming together to share in a collective purpose: connecting deeply with Spirit and celebrating the the magnificence of being.
Our trainings are based around the three worlds of the Chakana, an Andean representation of a transformational path based on universal ancient archetypes. Through a deep exploration of the philosophical roots of yogic traditions, we reveal the parallels between the philosophies of cultures all around the world. Always maintaining respect for native traditions, wherever possible we work with the local wisdom keepers of the area to integrate our practice with the land. We draw on the elements of nature and all of our life's teachers to promote an inclusive, non-dogmatic connection with the divine in whatever form works for our participants, building an open-minded space that accepts all belief systems and invites you to deepen your own, unique way of plugging into Source.
Quality Facilitation
We are proud of our facilitators. With a rigorous training process including a professional Kula facilitation training course and multiple apprenticeships, we are becoming globally recognized for our unique and engaging teaching methods. All of our founding facilitators are Life Coaches who hold Yoga Alliance's ERYT-500 certification, all carrying the wisdom of teachers from traditions around the world. We combine education in foundational yogic philosophy with the teachings of the shamans and master plants, and a commitment to continually study and renew our passions. Shifting paradigms, we offer a sacred space held with gentle firmness, well-rounded experience and charismatic authenticity.
With roots in the earth and spirits in the sky, our facilitators blend humility with professionalism, integrating wisdom with lightness and a sense of humor. Many of our facilitators are successful international entrepreneurs and inspirational role models, offering their teachings through a variety of unusual and inspirational avenues. Their diverse specialties, combined with the energy of each location, inspire varied themes for trainings. Alongside our trainings and retreats, we offer Yoga Alliance certified Continuing Education opportunities that draw on these varied disciplines to empower students to be leaders in their own communities. Wherever possible, we collaborate with local wisdom keepers and master teachers to evolve both ourselves and our offerings. Above all, we give reverence to the guru within each of our participants, allowing each offering to be an unfolding of the wise one within all.
Ongoing Support
All of the offerings on the Kula Collective schedule provide an opportunity for deep personal transformation and growth. We understand that just as important as the retreat itself is the subsequent re-integration into your life.
Once you leave, you'll forever be a part of our Kula alumni community, a tribe of graduates all over the world. You can stay in touch with students from your group and from others through our Alumni Global Directory.
THROUGH OUR KULA AMBASSADOR PROGRAM, FOR EVERY REFERRAL YOU SEND OUR WAY,
WE'LL REWARD YOU WITH DISCOUNTS AND CASH BONUSES!
We love to support our community by providing opportunities for sharing and marketing your own offerings, supporting you to lead Cacao Tours and other community events in your area, and even staying in regular connection through regular satsangs, online creative spaces and social media. If you're still looking for more, we offer a variety of Yoga Alliance-certified Continuing Education courses to keep you stimulated, inspired and in a continuous flow of evolution.
Kula means family, a spiritual family of the heart. The Kula Collective was formed through a combined vision of dedicating ourselves towards the work of supporting a "global awakening of spiritual consciousness, supported by a thriving community founded in integrity, with abundance and freedom for all."
For us this means that we work together to expand our collective to reach the furthest corners of the globe, connecting people and passions for spiritual growth. We invite our students and participants to be part of our growing Kula Community to continue to connect, learn and share offerings through the support of our collective platform.
Together our platform and teachers offers and incredibly diverse array of teachings, education and transformational experiences. Our aim is that our inner fractal continues to expand outward to connect and open many hearts, that in turn open many others.
WHEN KULA COLLECTIVE WAS IN ITS INFANCY, THE FOUNDERS FELT THAT THE A NEW BUSINESS PARADIGM WAS NEEDED TO CREATE A "CONSCIOUS BUSINESS". IN ORDER TO FULFILL THE MISSION OF GLOBAL ABUNDANCE, THE KULA FOUNDERS DECIDED UPON A MODEL OF "UNANIMOUS CONSENT" FOR ALL BUSINESS DECISIONS.
WHAT IS A "CONSCIOUS BUSINESS"?
Many in the business world believe that the financial interests of a company must come before any ethical or moral considerations. Laws, they would contend, are society's moral structure, so to impose additional moral restraints will present a strategic disadvantage causing business to wither. This attitude is old-fashion and unsustainable.
Fortunately, our culture is progressing beyond this "money first" approach and growing increasingly supportive of businesses that place a premium on morals such as sustainability and socio-economic responsibility. What's the point of maximizing the bottom line if our product is damaging the environment? How would we feel at the end of the day if we grow our coffers and, as a result, our community suffers? Putting a system of morals and ethics as a first priority is what we call a "Conscious Business."
HOW CAN WE CREATE A STRUCTURE THAT PRIORITIZES MORALS AND ETHICS OVER FINANCIAL RETURNS?
The primary challenge of creating and sustaining a conscious business is the human ego. We all can fall victim to a "me first" perspective, no matter our intentions. In order to moderate the "ego affect", the Kula founders decided on a system of Unanimous Consent. The seven board members need to make ALL business decisions unanimously.
This revolutionary business concept ensures that the ego of any individual (or even majority) cannot drive a decision. The practice of Unanimous Consent makes the decision making process much slower, as each founder needs to express their opinions and seek a compromise to which all are amenable. The board's ultimate objective is not to make decision quickly, but to take time in deliberation to ensure that the best decision is made.
Do you want to live in a better world?
What are we doing to make this dream a reality?
Think Global, Act Local. Kula Collective's vision of a global awakening of spiritual consciousness means we are dedicated to making sure our services benefit the communities that need them the most. We maintain respectful relations with community organizations, connecting with already existing networks and striving to be inclusive and open in everything we do. As we create abundance, we share abundance, along with the tools we have used to envision and plan for it amongst ourselves.
We are always listening to our host communities to better understand their challenges and find impactful and regenerative ways we can reciprocate their hospitality:
- Karma Days: Every YTT includes a day where students can collaborate and connect with their host community.
- Karma Grants: Kula offers scholarship opportunities to give residents of our host communities the opportunity to attend a yoga teacher training.
- Donation Based Classes: Weekly class held at a studio in San Marcos, Guatemala where all donations go directly to the community's new Birthing Center.
- Organizational Alliances: Kula provides financial and stratified support to organizations that work to improve the quality of life in our host communities through maintaining long term relationships.
We encourage Karma services being expanded out into the world through our Dharma program. Through offering our attention and abundance in community support, we explore selfless service as a spiritual practice whilst bridging cultural differences through direct understanding. Holding this intention, we are committed to living our vision and ensuring that our offerings will be healing and regenerative for our students and the communities that host us alike.
We are all in this together.